As women keeping our face and skin looking lavishing during the warm seasons is a strong challenge to maintain. But with an amazing skincare regimen you can achieve a healthy appearance. Radiance Revival Clarisonic® Plus With Lancôme Set $225 can be your everyday necessity for clearing up the pores, helping to exfoliate and most importantly cleansing the skin.
Who doesn't love candles, especially gorgeous looking ones. These are perfect for those displaying accessories in your home that you nor your husband touches. It's all about adding that glamour to the perfect room or adding this to a gift for Mother's Day as well. Ok, here's the scoop Lollia Relax Petite Perfumed Luminary $32-$54 (depending on size) the burn time on this is 56 –124 hours and the scents ranges from white lily, creamy vanilla, honey nectar and white orchid.
When nighttime hit's you want to be seen looking amazing and the best features for capturing that is with the eyes. Dark shades mixed with chic tones like blues, greens and lavenders make it all very possible for you to strut your stuff. Our favorite palette that gives a good photo obsessed diva her limelight is YSL Ombres 5 Lumieres $58 in shade Midnight Garden. The shadows mixes are sheen, shimmer, metallic and a touch of matte.
Our favorite collection that has just about everything you need is bareMinerals Feel the Love 7-piece Collection $76.82. You have to love the fact that the brand shades caters to the fair ladies all the way to the deeper brown shades. Here's the full collection details
.49-oz bareMinerals Ready Foundation Broad Spectrum SPF 20, in choice of shade
0.07-oz Concealer Broad Spectrum SPF 20 in corresponding shade
0.18-fl-oz Stroke of Light Eye Brightener in corresponding shade
0.3-oz bareMinerals READY Blush and Luminizer in The Love Letter(a warm mauve) &The Daydream (a pink champagne)
0.15-fl-oz Marvelous Moxie Lipgloss in Starlet (a rose-petal pink)
2-in-1 Face and Concealer Brush
2-in-1 Cheek and Eye Brush
You get full coverage that is light on your face, hydrating all around and so healthy for your skin. Love the double ended brush so worth it!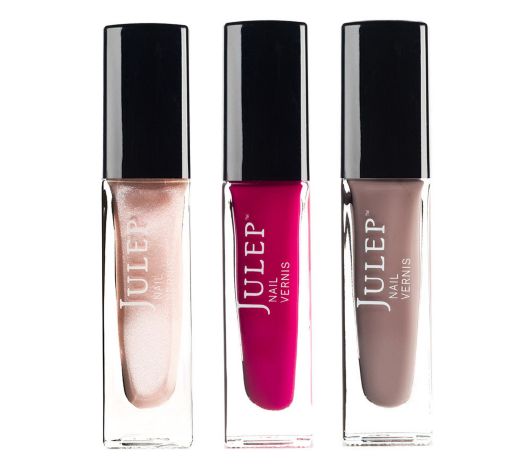 When it comes to nail colors and long lasting wear you want to make sure you find a brand that provides both. Sometimes it's hard to break the happy of the budget brands because at the end of the day we know it's not breaking our clutch bag. But for a splurge shopping experience we love Julep Everyday Essentials 3-piece Nail Wardrobe $25. These shades are worth it for being transitional from day to night and you can rock them all seasons. And most important the lacquers last a decent time add a gel or a good top coat as an overall protection (Sally Hansen is my choice)
Which Would You Splurge On?
Want more beauty? Check out my cosmetics line
Love fashion/trends? Like us on Facebook