ASOS CURVE Top With Lace Trim and Cuff $61.57
Why We Love It: The top is very flattering in the shape and its style, great dinner out look for looking glam.
NYDJ 'Sheri - Zebra' Print Twill Slim Jeans $140
Why We Love It: It gives your jeans more edge with it's zebra print designs, it's a sexy style, makes you want to flaunt it.
Ivory Sequin Striped V-Neck Sweater $19.99
Why We Love It: It's great casual top for those simple days, you can add a bold necklace to this with your curvy jeans and look amazing.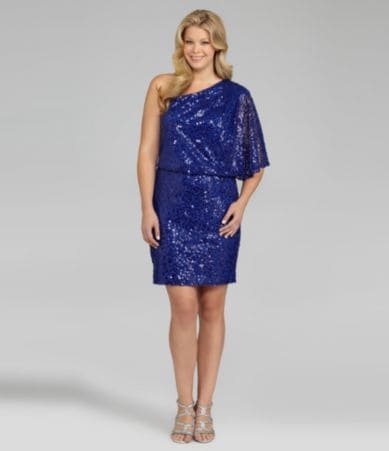 Jessica Simpson Woman One-Shoulder Sequin Dress $148
Why We Love It: The one shoulder look along with the color and glitz are beyond fab. It's a great dress for that special event that will work the room.
ASOS CURVE Pencil Skirt With Laser Cut Detail $70.36
Why We Love It: This pencil skirt doesn't hold the boring factor it brings the fashion view to the eyes, you can make it sexy with a great top and killer heels.
Matte sequin pencil skirt $69.95
Why We Love It: A sequins skirt should be your dazzle piece in your wardrobe, this is the dazzle work it in with a sheer blouse, turtleneck or button up. It's a easy and great transitional asset.
ASOS CURVE Shift Dress With Baroque Beading $263.85
Why We Love It: This shift dress is a great statement dress, it's perfect for the right event and the style is super gorgeous.
Lane Collection kitty wrap cardigan $68.60
Why We Love It: Cardigans are your much needed style accessory to change looks and this one brings the chic. The leopard design is rich and  elegant for a day into night theme.
ASOS CURVE Exclusive Soft Peplum Top With Woodland Animals $35.18
Why We Love It: A peplum top can do no wrong and this one has major character and style. Love these with a great pair of leather leggings and a shiny patent leather tote bag.