New Years Eve parties, birthdays and dinners call for women to demand much attention with her stylish attire for the evening. Popular choices are lace, flowing styles, winter whites and of course a little embellish. No matter what you choose for your selection of the night just remember to go a bit bolder, be a bit more sexy and enjoy looking extra fabulous.
Kim Kardashian has made the white lace trend more fashion forward since wearing it on numerous occasions. Add the look for a dinner party paired with chandelier earrings and a white manicure. (Essie's marshmallow is my favorite)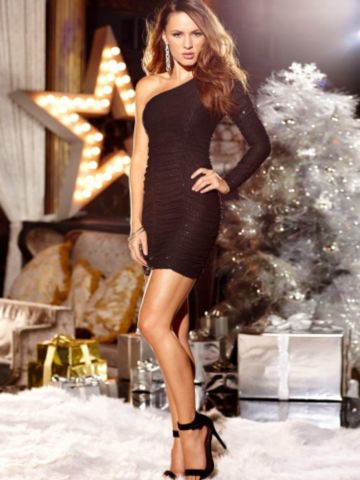 If you're spending your evening out with some friends and your beau at a trendy spot go for something fitted and sexy. One shoulder styles are great for late night dancing and glam shots of you and your clique.
A red dress with some sparks or lace detailing is classic but also can be ultra sexy. A mini style should be your first option and play-up the hair and make up look with a flawless red lip that's over the top glossy.
A night of champagne, late night kisses and living in the moment is full of sequins. So do wear it for this special night of fun. You can keep the sequins style limited to your dress/manicure or dazzle further with it in platforms and jewelry.
Alexia Admor
High/Low Peplum Ponte Sheath Dress
$229
For those ladies who want a goddess touch but in safe taste this combination gives you that option. It's style is best for a simple cocktail dinner party and you can still rock your favorite black heels.
For those that are keeping a light profile for the evening but still want to look a bit on trend with the rest of the world that night go for black and lace. But do pick a dress that has a small edge to it like the simple gold zipper on back. It gives something extra to the eyes.
Dress The Population Ryan Long Sleeve Sequin Dress
$195
This style is for the fearless and those that can make any dress come alive with their perfect frame. This multi-colored dress is rockstar quality and definitely makes a known statement. Major perks when wearing this dress is looking your best from head to toe.