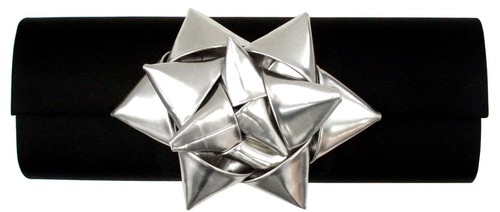 Satin w/Metallic Gift Bow Clutch $58
Make your LBD stand out even more with this gift bow clutch style, give it more dazzle with metallic sandals and chandelier earrings.
Tasha 'Pearlier' Box Clutch $98
Liven up a white star studded look with this tasteful clutch that looks amazing for a highly formal occasion. Add embellished bracelets or a flawless cocktail ring.
Alexander McQueen Classic Calf Hair Skull-Clasp Clutch $1420
This clutch brings a classic touch with it's strong presence of color and sophisticated texture, play it in as a pop shade to keep the look alive.
ITALIAN IMPORTED LAMB PATENT CLUTCH $296.96
The metallic patent clutch is a great transitional look and shade for a day/night look. Add a simple pair of cobalt stilettoes and the same on the eyes.
Persian Gold Clutch $495
This style is very elegant and your outfit of choice has to be on the same level, great colors to make this standout are navy, cream and light pink.